absoluteBlack Graphen Pads
The brake pads are undoubtedly the most important part of the bicycle, since being able to brake in time is essential. They also determine your downhill performance. The key to its perfect operation is to keep the temperature of both the pads and the rotor as low as possible, especially on long descents. Because the hotter they get, the faster they lose effectiveness, which means they lose the ability to slow down safely and evenly.
The ideal brake pad will have the same consistent, predictable stopping power, with good initial braking grip and perfect modulation through every corner of a long descent. And this is what they believe they have achieved at absoluteBlack with their new Graphen Pads.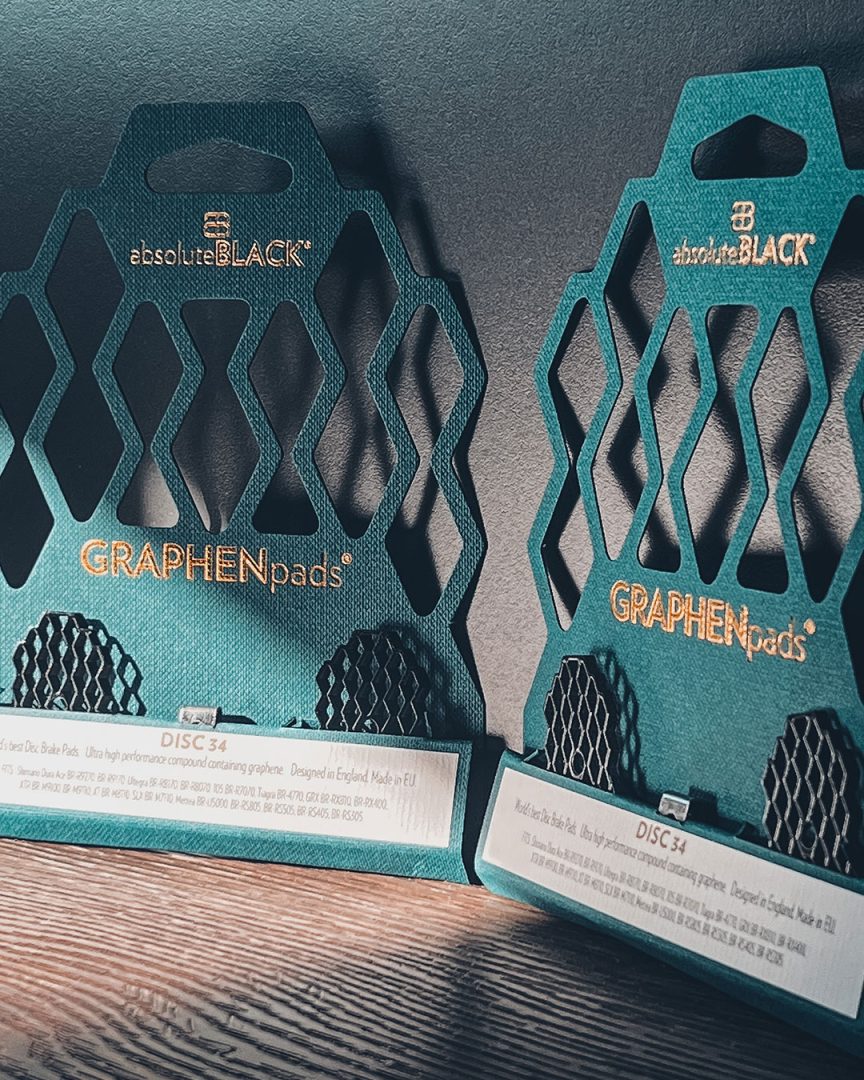 More than 3 years of development
At absoluteBLACK they are dedicated to the design of cycling components with absolute passion. It is a family business, manufactured in Europe and with one goal in mind: to make pieces to last.
They have been developing and testing their new brake pads for more than 3 years and their tests against pads from other manufacturers have obtained remarkable results, creating a completely new benchmark.
They have achieved this by completely redesigning the dissipation body, coating it with a special layer
of graphene and creating a new type of friction compound that contains graphene and avoids the use of toxic copper.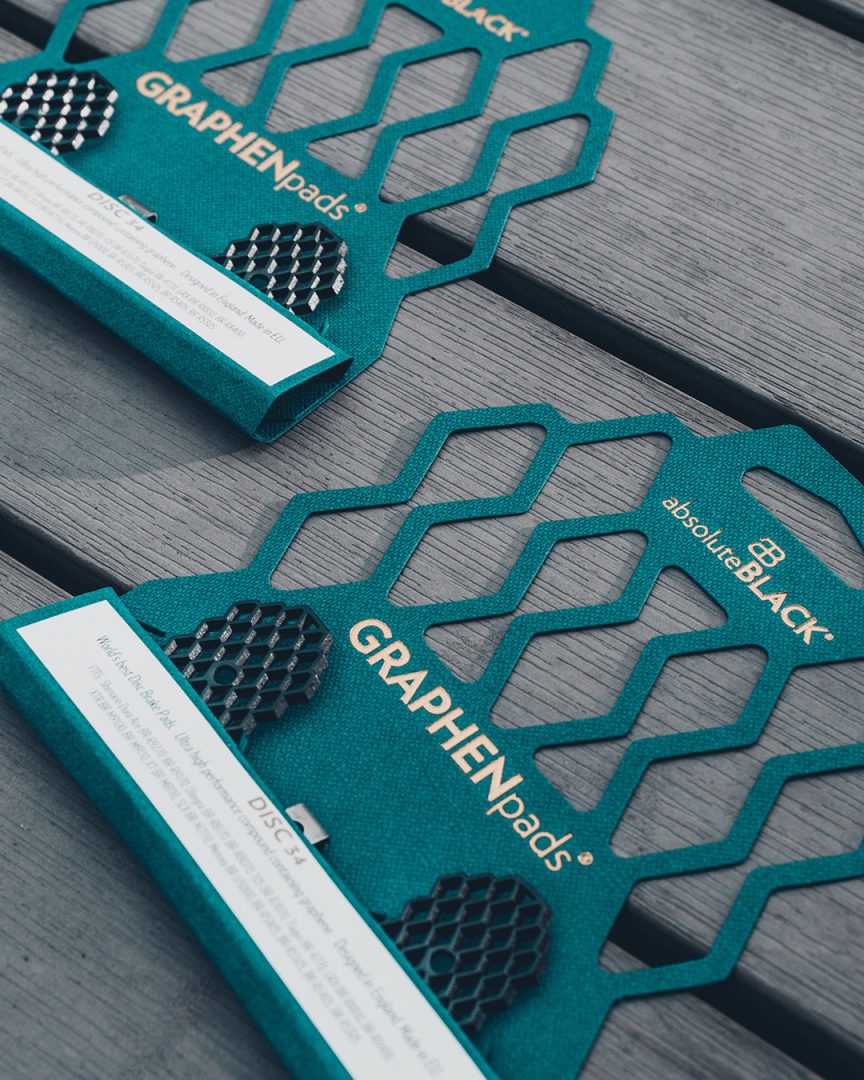 Key elements of the Graphen Pads
First pads on the market that contain graphene in the friction compound, drastically improving braking.
They increase performance, durability and heat transfer to the back plate.
First tablets on the market that completely eliminate toxic copper.
First pads on the market completely covered by a graphene heat dissipating coating. Increased heat radiation by more than 20%.
Industry first pads with patented angled radiator fins for superior airflow and cooling.
We tested the new Graphen Pads pickups
As soon as we received them, we put them on our reference bike, a 2021 Giant TCR Advanced, with Shimano Ultegra brakes. Assembly is simple, like any other brake pad. Of course, it is advisable to follow the instructions to the letter, using a good cleaner to clean the inside of the caliper and the surface of the rotor (alternatively you can use isopropyl alcohol or as a last resort a little soap and a clean cloth). Also retract the pistons well before locating them. Once installed and checked that they do not rub, we have to do a good run-in, with soft and short braking at the beginning, gradually increasing the braking power until reaching sudden braking.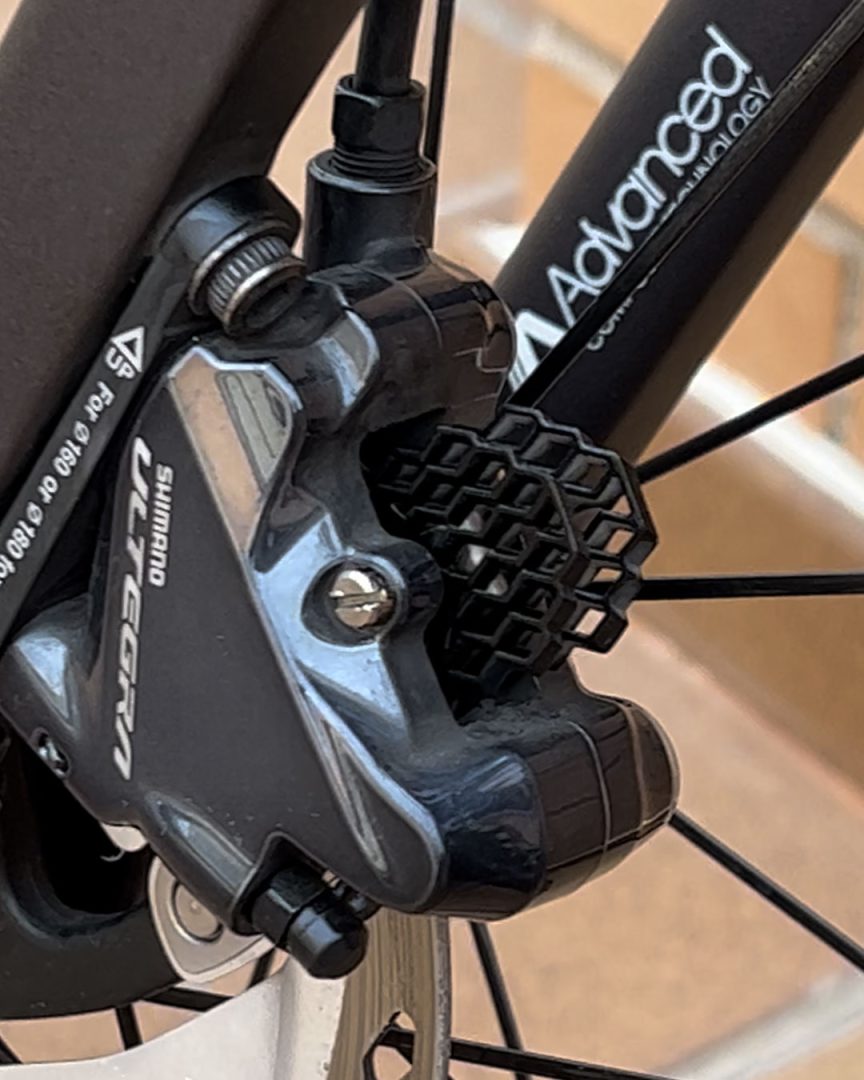 After several long routes with them and some long and steep descents, we can assure that the difference is palpable compared to the usual pads:
Braking is powerful and very predictable from practically the beginning of the ride.
The modulation or control of braking is fantastic.
They give us more confidence to descend fast and brake later due to their powerful and predictable feel.
We did not appreciate fading, even on demanding descents.
They are very quiet, something to be thankful for.
They reduce the fatigue of our hands since it is not necessary to exert much force to obtain great braking.
Final verdict
The new Graphen Pads from absoluteBlack are a spectacular product whichever way you look at it. The aesthetics are awesome, something usual in the brand, but the important thing is that its operation too. The use of graphene gives them fantastic power and dissipation, and as if that were not enough, it is not toxic. You cannot ask more to a product that plays a crucial role in our safety when riding a bicycle. Bravo!