GOBIK Supercobble long sleeve
In this article: review and opinion of the GOBIK Supercobble Sylan 2021 long sleeve jersey.
The Supercobble jersey is an old acquaintance in the Spanish manufacturer's range. With a wear temperature of 6-14 ºC, it is at the top of the table of technical winter garments, just below the Skimo Pro jacket. It integrates Event's DVstretch membrane, highly breathable and windproof. For this season 2021-2022 (Cold Series 2122) it is presented in 2 colors:
In this review, we analyze it in detail. Let's see how it behaves in cold temperatures and icy wind. Will he be the new king in the north?
Do not miss: comparison of GOBIK winter garments, where you can see all the models ordered by temperature of use, protection against wind and rain.
DVstretch membrane
The Event Fabrics brand has been developing garments for sports in adverse weather conditions since 1999. Its DVstretch membrane is designed for moderate climates and demanding activity. It combines lightness, good stretching, protection against wind and great breathability. This is important because in an activity like cycling the ability to evacuate heat and sweat is key.
Photo: Event Fabrics
Supercobble in detail
Before focusing on the road test, we review all the parts of the garment under a magnifying glass. We start with its upper front part, where we can see the excellent workmanship and integration of the SBS zipper with an inner flap that prevents the passage of wind, this and the fact that the entire front part has a DVstretch panel by Event, windproof, makes Supercobble an excellent garment to withstand severe weather conditions:
The lower part of the garment integrates a large silicone insert, which provides a good fit and seals the entry of wind:
All the inner lining is very warm and with an intermediate thickness, greater than the Cobble jersey and less than the Skimo Pro jacket:
The sleeves end with a laser cut cuff that fits very well with our wrist and forearm. It is also easier to insert into gloves to further seal the air intake to the arms:
The back is made with a non-membrane fabric, more breathable, perfect to evacuate residual heat and not feel overwhelmed when we use the garment on routes or demanding training. Above it has the classic reflective strip of the brand, to increase our visibility:
The lower part incorporates the pockets with patented GRS (Gobik Retention System), perfect for carrying all kinds of belongings with great security and load capacity. A second reflective strip also stands out below:
In addition, a fourth zippered pocket appears on the side. Fantastic loading capacity of Supercobble:
On Route
GOBIK recommends the use of Supercobble for a temperature range between 6-14 ºC, which places this jersey between the Cobble and the Skimo Pro jacket. From our point of view it is closer to the latter, since by incorporating a windproof membrane, the feeling of comfort is much higher than Cobble, with which if we do not use a vest, the wind will penetrate easily, making us go colder than it really does. With Supercobble, we can ride without vest, and use undergarments such as merino to gain more temperature if we require it.
We have used Supercobble in outings with cool temperatures, 7 ºC in the early hours of the morning, until reaching 18 ºC at noon, which is more than the recommended maximum temperature for this garment. We really liked the windproof capacity it has, absolutely nothing goes inside. When temperature rises, we have not noticed a feeling of overwhelm either, since the inner lining is very similar in thickness to Cobble. We open the front zipper and we ventilate well thanks to the fabric on the back.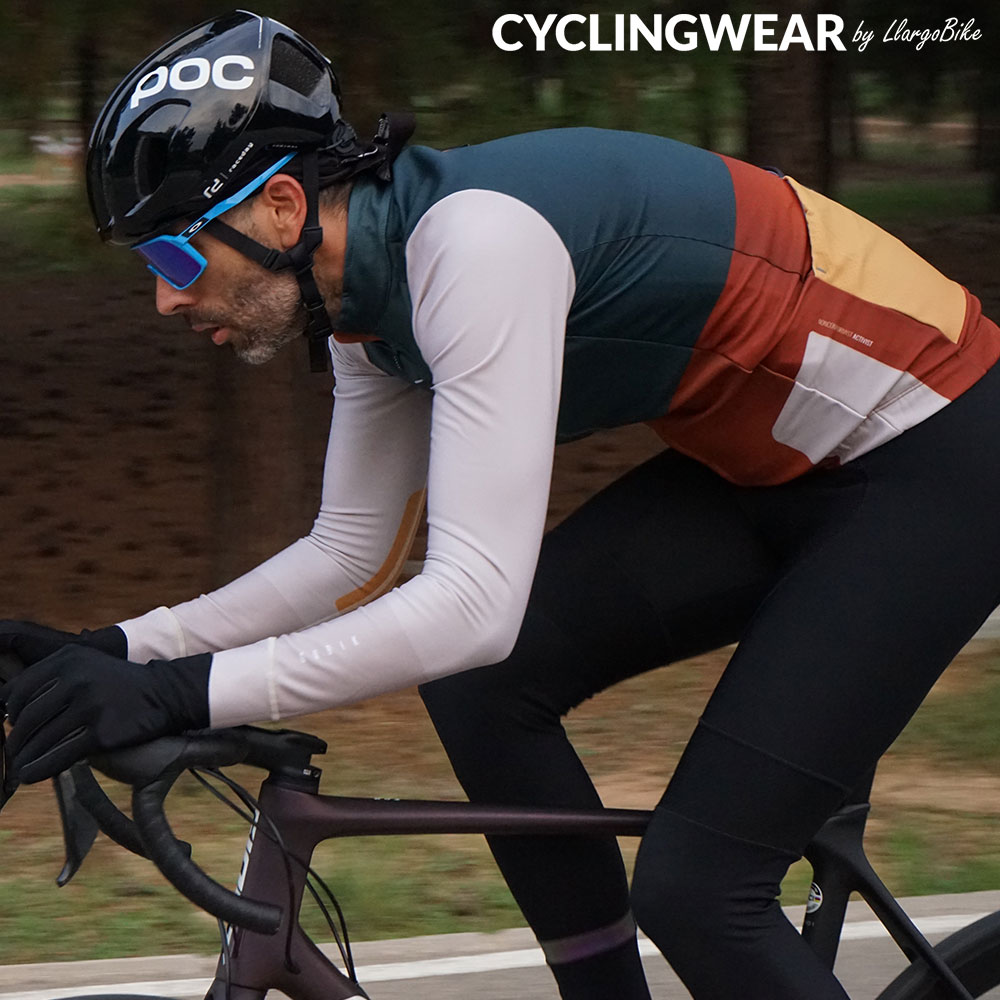 We really liked the fit of the garment and its elasticity. It adapts very well to the body and does not feel heavy or stiff. It's a perfect jersey to train on cold days without feeling burdened by layers. The colors of this new season also seem sensational to us, with sober combinations that are very successful for the autumn/winter seasons.
Final verdict
We cannot hide that we really liked Supercobble. The incorporation of the windproof membrane makes it perfect for cycling in fall/winter, where the wind is usually present. Thanks to it, we can ride without wearing a vest, which will allow us to be more comfortable and without so many layers. The decision between Supercobble and Skimo Pro will be a matter of temperature range.
Taking in mind GOBIK's fit, we recommend using a size that is loose enough to be able to wear undergarments in case we need them. In my case with 105 cm chest, 1.90 m  heigth and 76 kg weight, I use size L.
Good route!
Latest Reviews